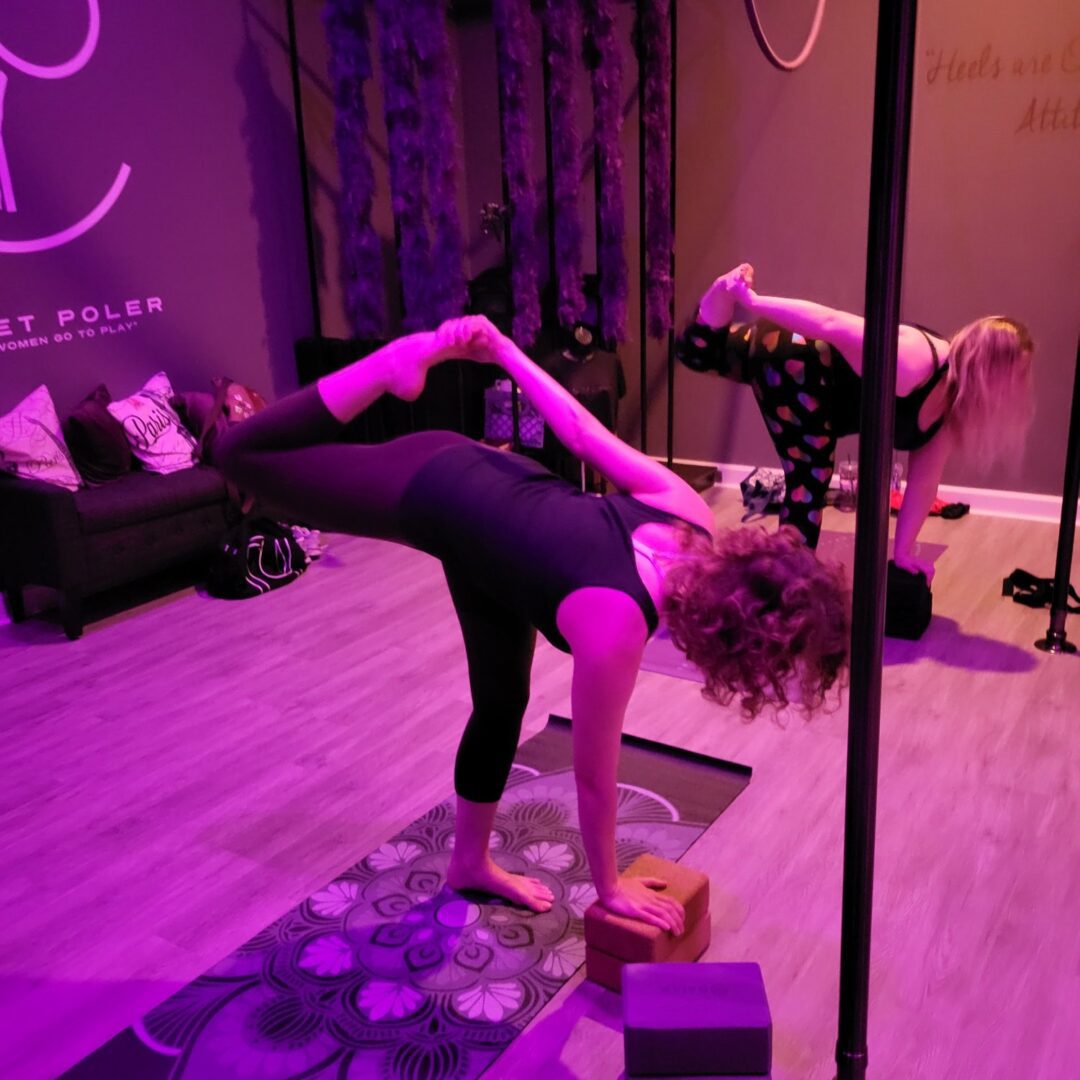 OUR POLE & ALTERNATIVE
FITNESS CLASSES
Closet Poler offers a variety of classes at our studio in Newnan, GA. We offer classes that help with flexibility, strength, balance, and endurance. Start your journey with us today. Please see our available classes below, and if you have any questions, please contact us.
This yoga-inspired class focuses on opening areas such as the chest, shoulders, hips, and hamstrings. Great for beginners looking to improve flexibility and balance. Bring blocks, mats, water, and towels.

A Pole & Chair Flow
Beginner-friendly choreo-based class- No dance experience required
Don't be shy- give this class a try! We'll play with creative transitions and basic but fun & flirty pole and chair moves. In this chair fusion class, I promise you won't just "sit on it"- we'll stand on it, flip it, slide and push it and most definitely dance on it!
Socks are suggested
Layers suggested
Leg warmers/long socks, pants, kneepads, t-shirts, hoodies, etc.
Ready to take your pole journey to the next level? Work on fluidity, prepare for floor inversions, connect floorwork, and explore shapes such as superwoman, butterfly, and jade. Must climb a static pole and execute a basic spin and pirouette on both the right and left sides.
This is a floor class. No pole is needed. The instructor will teach you the techniques of liquid motion: to move fluidly and sensually around the floor.
A beginner friendly spin pole class where we will focus on the fundamentals such as controlling how fast the pole spins and how to transition from one trick to the next. This class is for students who are new to spin pole or would like to gain confidence while performing skills on spin.
LIQUID MOTION PLATFORM HEELS
Liquid motion is a methodology that teaches how to achieve a seamless and natural movement quality by applying basic dance theory and sensual movement with platform heels; the technique and moves are different when adding heels. (Heels are required)
Only offered to students with a monthly package. Open pole gives our class pass students 1 hour to work on transitions, spins, or tricks learned at Closet Poler studio. (Students must only work on what they have learned or level appropriate.
Beginner level-Learn how to apply your static skills to the spin pole using beginner spins and transitions in combos and or choreography.
LEVELS conditioning *1.0 - *2.0
(60 min Conditioning class using the pole for circuit and strength) training on both side and flexibility with some cardio.
*Testing will be required to move to the next levels class.
Low Lyra is for beginners to learn basic in the hoop poses with variations and spins. 
Freestyle  higher beginner choreographed class.  Learn flowy shapes slides, and transition from floor to hoop! Learn new floor slides with Fluidity and sensuality. Prerequisite Low Lyra. 
Freestyle choreographed class. For the more advanced beginner. Learn more challeging poses with one leg hangs, inverts bottom and top hoop, spins and splits.
This workout is good for the upper body and abs and cardio with a burst of twerk. You'll use a yoga device called feet-up that will have you in an inverted position. This device helps you strengthen your core, shoulders, and flexibility.
A beginner friendly contemporary pole class. This is a chorrography based dance class where you will learn a routine that is  derived from ballet moves such as pirouettes and basic pole spin skills. Perfect for the student who wants s to improve their gracefulness and skill execution. Please bring water. (knee pads are recommended)
Let's turn up the heat! In this class we sway or hips and evoke that wild side from within.  This will be a space where you can let go and be free. We will move our hips to Latin and Reggaeton inspired music, combined with sexy movements, heel clacks and flexy fun. We will build on basic and variation spins. This is an all levels class.
Music: Alternative RnB, Latin and Reggaeton/ Requests welcome.
Recommended attire: Knee pads, :"Heels optional but attitude is a necessity." -Lena
Outfit should expose arms and legs for grip on pole (Tank tops, crop top, sports bra, short shorts, short skirt) Most of all, wear whatever makes you feel like confident and sexy!
Leggy floor movement, Stripper pole style.
This class focuses on showing your body some love through movement and touch. This Burlesque based class, has no pole spins or aero chair tricks. Just  pole and chair as props, with the focus being on you actively moving. It is a workout! Wear what makes you feel good. Knee pads and heels are recommended, but heels are optional. Class may themed and theatrical at times.